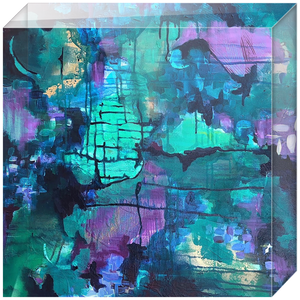 Altar Art - One Night I Began to Dream Again
Regular price
$65.00
$0.00
One Night I Began to Dream Again
the quiet victory of acceptance,
the reward of healing over time.
When we accept what IS 
release all resistance
we fall into sync with the universe
& open access to the divine. 
----
One Night I Began to Dream Again is one of a four part series of paintings documenting recovery from the traumatic brain injury I endured in May 2017. 
For many months of my recovery, I was unable to regulate sleep and often found myself riding a rollercoaster of anxiety that once activated, would run literally for days. 
My inner knowing and connection to self was strong enough to recognize the anxiety was "not me" but knowing that did not mean I could avoid it. I learned to accept it and allow my body to rest even though I was unable to sleep. 
One night, many months in, I woke from a night of sleeping aware of having dreamed. Healing takes its time, there is nothing to rush through and no where to get. Sometimes in life we are overcome by injury or grief or stress. When we release resistance and allow for things to be as they are, healing can occur. 
---
Share this Product
---
More from this collection